Differences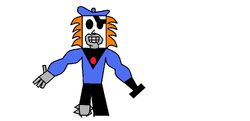 Only little details have changed in the last 13 years. Hos' 5 o'clock shadow has turned into a small beard. His hair on the sides have started shaping down. To cover his hair loss on top, he started wearing a blue bonnet. Hos Delgado traded out his old suit for the UnderFist Suit(Timeskip 1). Within those 13 years, Hos has gotten married to Angel, and had a son.
Mini-story Appearances
Ad blocker interference detected!
Wikia is a free-to-use site that makes money from advertising. We have a modified experience for viewers using ad blockers

Wikia is not accessible if you've made further modifications. Remove the custom ad blocker rule(s) and the page will load as expected.